On September 25th, Lance Kinerk and Jon Olin held the grand opening of their first Take 5 Oil Change® in Donelson, TN. The plan is that this location be the first of many, and part of their stated mission—"Creating Opportunities for Others".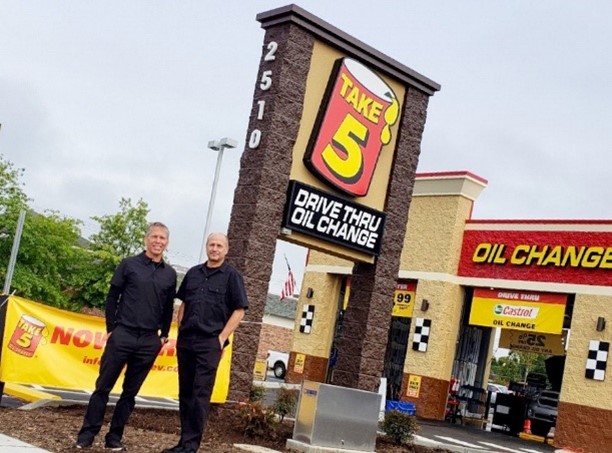 Kinerk and Olin were teammates in college on the soccer team at Davidson College. After a brief time in other occupations, they came together to form Kinlin Development LLC and began looking for business opportunities.
"We looked at a lot of businesses before exploring the franchise world," said Olin. "After being introduced to Driven Brands, we were fascinated by their vast portfolio of automotive companies. They have some of the best established, well-known brands like Maaco and Meineke, along with one of the fastest growing brands in Take 5 Oil Change."
"We decided on Take 5 after meeting with their management team," said Kinerk. "We were impressed with the quality of their team, their vision for growth, and the business model—great cash flow, low inventory costs, simplicity and easy to replicate. We aren't car guys, but this appeared to be the perfect fit for us."
The franchise model also allows them to fulfill their mission of creating opportunities for others. This has always been one of their stated goals for their investment. The pair plan to open their second store in October, and two more in early 2021. With many more locations planned for Tennessee, Kinerk and Olin are looking forward to hiring people as technicians and seeing them develop and grow into store managers for these new locations.
"One of the benefits of entrepreneurship is the ability to develop your team, and help others grow in their careers," said Olin. "We already have team members that have expressed interest in becoming future managers. As we open more locations, there will be increased opportunities for everyone."
"Our current store manager is a veteran, and you can see that experience and training in his leadership abilities." added Kinerk. "Being near a military base we hope to attract more people with a service background."
Take 5 continues to be a great investment opportunity for entrepreneurs looking to diversify their portfolios with a simple, replicable service model in a recession-resistant industry.
Take 5 is actively seeking single-unit and multi-unit franchise owners to expand the brand's footprint. To learn more about franchise opportunities with Take 5, visit https://take5franchise.com/.
About Take 5 Oil Change
Established in 1984, Take 5 Oil Change® is a quick lube franchise under Driven Brands featuring a unique drive-thru concept that allows customers to never leave the comfort of their car. The brand offers an on average 10-minute oil change service and ancillary services such as air filter replacement, wiper blade changes, and coolant exchanges. Take 5 has more than 530 company-owned and franchised service centers throughout the United States and Canada. For more information, visit www.take5oilchange.com.
About Driven Brands
Driven Brands™, headquartered in Charlotte, NC, is the parent company of some of North America's leading automotive service businesses including Take 5 Oil Change®, Meineke Car Care Centers®, Automotive Training Institute™, Maaco®, CARSTAR®, ABRA®, Uniban™, 1-800-Radiator & A/C® and PH Vitres d'Autos™, and the International Car Wash Group. Driven Brands has more than 4,000 centers across 15 countries, and combined United States and Canada, and combined, all businesses generate approximately $3.8 billion in system-wide sales and service over 50 million vehicles annually. For more information, visit drivenbrands.com