Entrepreneurs Plan to Bring More Employment Opportunities to Greater Washington, D.C. and Maryland Market
Franchising.com | CHARLOTTE (June 30, 2021)
Take 5 Oil Change® has recently welcomed brothers Syed Mujahid Iqbal and Syed Abid Iqbal as new franchisees in one of America's fastest growing franchises*. The Iqbal's plan to develop ten Take 5 Oil Change locations in the Washington, D.C. and Maryland markets.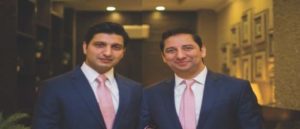 Syed Mujahid and Syed Abid are multi-unit franchisees of Popeye's, scaling to multiple units through a combination of resales, new development, and conversions. The brothers moved to the U.S. from Pakistan 15 years ago to complete their education at Goldey-Beacom College in Delaware. Prior to becoming franchisees, Syed Mujahid (pictured at right below) was VP of operations for a large petroleum company which also owned hundreds of gas stations. Syed Abid (pictured at left below) was a consultant and system analyst at various organizations including AIG insurance, Pfizer and Accenture. After experiencing successful growth with their Popeye's franchises, the brothers sought to diversify their portfolio with a growing, non-food opportunity. They chose Take 5 Oil Change.
"We have had much success with our current business," said Syed Mujahid. "However, the QSR business is not without challenges. There are a hundred components that all need to be in place to operate successfully, and as we looked to expand outside the food industry, we found Take 5 to be a simple, easy-to-scale business with a great concept and an essential need."
"You can drive a car with bad tires for a while, or a dented fender, but a regular oil change is essential to the continuing operation of your vehicle," added Syed Abid. "The need is there, and no one excels at the customer service aspect of meeting that need better than the Take 5 brand."
The Iqbals have developed a strong team to manage their multiple Popeyes stores, and plan to use their experience to do the same for their Take 5 stores. They currently employ nearly 300 people and look forward to adding jobs as their Take 5 locations expand.
"We came to America 15 years ago, and we are thankful to be in a thriving business and be a job provider to people in this great country," said Syed Mujahid.
"There are workers and there are job creators, and we chose to be job creators, and risk our hard-earned money to be able to be in that role and provide others with employment," said Syed Abid.
Take 5 is known for its unique, speedy, customer-focused service and stay-in-the-car approach, which is particularly attractive in today's COVID world. Take 5 Oil Change is always looking for ambitious entrepreneurs and investors to bring the Take 5 service model to more and more people.
* Take 5 was recently named one of the fastest-growing franchises for 2021 by Entrepreneur magazine.
About Take 5 Oil Change
Established in 1984, Take 5 Oil Change® is a quick lube franchise featuring a unique drive-thru concept that allows customers to never leave the comfort of their car. The brand offers an on average 10-minute oil change service and ancillary services such as air filter replacement, wiper blade changes, and coolant exchanges. Take 5 has more than 530 company-owned and franchised service centers throughout the United States and Canada. Take 5 Oil Change is a member of Driven Brands, the largest automotive services company in North America. For more information, visit www.take5oilchange.com.